Blotter first recognized Greenville's potential in 2012 as Greenville was being hailed as the next big thing in Tech by Fast Company, calling it a "world class, diverse and hidden gem."
Blotter's decision to relocate to Greenville was also helped by a United States Conference of Mayors in 2016 where it was reported that GDP growth from aggregated data confirmed the robust nature of growth in technology for the Greenville-Spartanburg areas. Nearly all of the nations' 381 metro areas were projected to experience real economic growth, but Greenville stood out for its unique mix of business potential and urban awesomeness.
The U.S. Bureau of Labor Statistics also provided persuasive statistics to support Blotter's decision to relocate offices from New York City to Greenville, SC. Add to that the record loss of business in New York City because of the pandemic, and you don't need to read Bloomberg to realize the decision for Blotter to leave was the correct one.
Greenville is behind Charlotte, Atlanta, Myrtle Beach, Columbia and Charleston in regard to projected job growth this year. But the tech industry is a different ball of wax.
Although Columbia (#43), Charlotte (#27) and even Myrtle Beach (#20) are ahead of Greenville (#82) in overall job growth, Greenville's tech scene offers both intimacy and access to inexpensive and highly-qualified talent. (Incidentally, Charleston (#19) ranks higher than any other Southern town in job growth except for Atlanta (#14), according to that same study on job growth.)
Knox White brings technology jobs to Greenville
Greenville Mayor Knox White is helping to ensure the infrastructure for supporting technology growth in Greenville can be sustained. He  heralded the AT&T GigaPower expansion:
High-speed broadband not only connects people and opportunities, but it is the foundation for precisely the kinds of clean, high-skilled, 21st Century jobs we want our city to be known for. I am excited to see AT&T is planning to bring its AT&T GigaPower network to Greenville and look forward to the positive impact that this new fiber-optic network will have on our community. –Greenville Mayor Knox White
The Iron Yard was another good example of how inspired space have accelerated the appeal for inspired young minds to build the next Facebook, educating people on the core elements of web development, from design to databases. But it's this collaborative environment that means more than anything else to young minds seeking financing for their bright ideas. Here are Greenville's most popular shared spaces being talked about: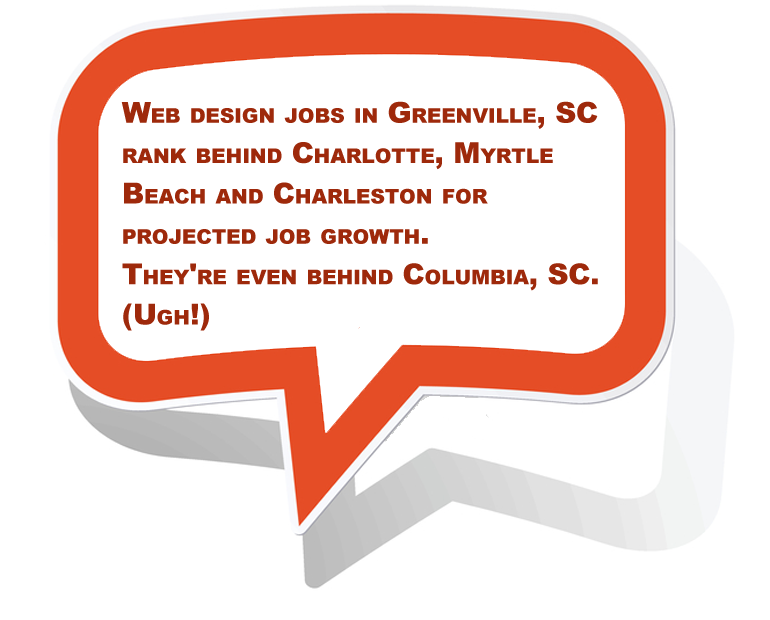 Development of downtown Greenville has given visitors and new residents something to brag about. With a large number of restaurants on Main Street giving the Fortune 500 companies Michelin, Mitsubishi and BMW something to brag about when hosting multi-national investors in the upstate, the tech-savvy sector appreciates the great environment for collaboration that has been added in regard to workspace.
Who's hiring for website manager positions in Greenville?
Red Ventures is rumored to be seeking website managers and willing to pay top dollar to get them in Greenville, South Carolina. Most of the top jobs for website managers in Greenville, according to Indeed.com, are coming to Greenville, South Carolina:
What are the different website manager jobs in Greenville?
There's been a lot of questions regarding the evolving roles of website manager jobs, what they entail and how to differentiate between designer, implementer and developer. There's a good reference to the generic term "Webmaster" used in the past which can be found on Blotter.com, but the below guide may be more exhaustive for those uninitiated with the term:
Web Architect ($) – A non-programming job, this position considers the design and theory of a website in regard to the structural aspects, including user interface and workflow.
Web Developer ($$$) – Specialize in HTML/XHTML, CSS JavaScript, Server-Client side architecture, Programming in Perl, Python, Ruby, PHP, Go, CFML-ColdFusion, Java, ASP, ASP.NET or other database administration responsibilities.
Website Administrator ($$) – Also knows as a Web Systems Engineer or Website Coordinator, is responsible for making the whole website work together and run properly. Admins run the show while the Developers and Architects influence the infrastructure.
A shout out goes to Hank Hyatt from the Greenville Chamber of Commerce, recently quoted in GreenvilleOnline:
I always love to see us do better," Hyatt said. "But where Charleston's strong, Greenville's strong, South Carolina's strong. It's all part of the same state.
JOKE OF THE DAY: So, how bad is the job market for website managers in Greenville, SC? The National Hipster Association issued a press release announcing that Greenville members will no longer be barred from the organization for owning Samsung Galaxy phones. Evidently, thrift has made them reexamine their founding principles.