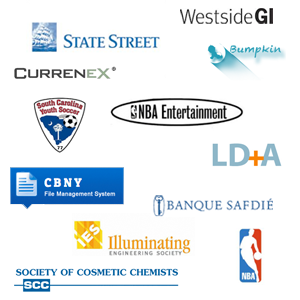 Blotter helps financial companies, non-profit organizations and private businesses build functionality to service business requirements. Ours is a content-based approach to succeeding, and we help organizations to organize and implement organize wireframing, engineering, and managing websites with eCommerce functionality and file management services for end users. We have built websites for doctors (nycgastrocenter.com), garages (eastcooperbodyshop.com) financial institutions (statestreet.com), sports organizations (nba.com), flower shops (roseloop.com), and an assortment of other operations who need help managing their online communications. The philosophy is to manage content and help the client to develop strategy to improve Search Engine Results (SEO) using social media marketing for Facebook, Twitter, Pinterest, LinkedIn and others.
Projects Samples
Experience includes wireframing, engineering, and managing websites with eCommerce functionality and file management services for end users.
Workflow illustration samples
Overview of Document Management System Roles:
For tracking, approving and storing electronic documents on a website, a document management system provides a library of PDFs, spreadsheets and other files that make websites useful for visitors looking for collaborative libraries where useful information can be easily accessed.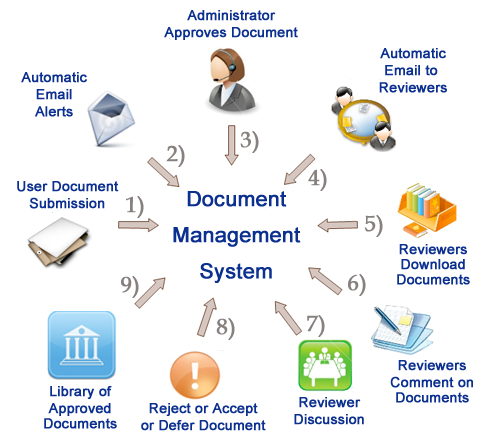 User Document Submission – The common user can upload the document with specific naming and summary information accompanying it. Once uploaded, the user may also delete or replace the document. Users may or may not choose specific categories when submitting, but users do not typically have the ability to see other user submissions. Their document can be approved or rejected at any time by the administrator.
Automatic Email Alerts – Whenever an action is taken by a user the administrator receives an email alert. This parameter may also be extended to reviewers. Time stamps also help keep updates straight for all roles.
Administrator Approves Document – This role is typically a unique one assigned to an office employee who is responsible for approving submissions. Because some submissions may be of bad quality or otherwise inappropriate, the administrator has the ability to accept, reject or defer a submitted document according to predefined parameters.
Automatic Email to Reviewers – Once the document is approved by the administrator, an email alert goes to all reviewers who are prompted to log in and take action on the document.
Reviewers Download Documents – (Reviewers are assigned by the administrator.) Once logged into the DMS, the reviewer will see a list of the approved documents and the associated titles, details and users who submitted them.
Reviewers Score & Comment Documents – By writing a reviewer's own comments and updating the status of each document to Accept, Reject or Defer, he or she provides feedback in a forum for other reviewers to see.
Reviewer Discussion – Administrators have the ability to run reports to aggregate all the comments and tally the votes for accepting, rejecting or deferring a document.
Reject or Accept or Defer Document – A running tally is summarized for the administrator to finalize a status for the document. Because parameters may differ for how a document is rejected, accepted or deferre, this subjective step may require offline processing and further discussions.
Library of Approved Documents – Once a document is deemed "approved" by the administrator, that document will be stored in a public or private directory, with or without reviewer comments in tact. A full audit trail exists for each document.