Apple bugging out legacy phones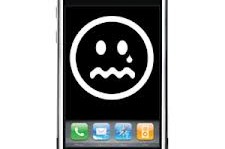 The desperation can be seen through moderated postings on Apple's website, posted in their own Apple Support Community. Here, gdgmacguy had some choice words for someone who suggested that Apple is ignoring the issue:
Apple does NOT support downgrading the iOS.  Why?  who knows,  But they don't.  Nothing you can do. If you want to jailbreak your phone and downgrade, then fine.  But look at all the postings here by people who have attempted to do so and permanently disabled their phones.  Jailbreaking voids your warranty with Apple and eliminates your right to any further assistance. Your choice.  No one forced you to upgrade in the first place.
https://discussions.apple.com/thread/4387499?start=0&tstart=0
But other newsgroups, not moderated by Apple, are giving legacy hardware (i.e., iPhone 4) owners ways to avoid upgrading to new hardware (i.e., iPhone 5) by sharing techniques to combat the bugs Apple engineers are introducing as an incentive for these users to buy new hardware. https://discussions.apple.com/thread/3022587?start=405&tstart=0
For instance, the home button stopped working properly if an iPhone 4 user upgraded to new software designed for the iPhone 5 on September 21, 2012. The incompatibility is designed to annoy the device-owner, by purposefully neglecting their legacy hardware, so that while still useable, the performance deteriorates to a point that the user will be inclined to pay for the latest device.
The business motive for the apple engineers is obvious.
"Innovation" may be the buzzword Apple uses to explain why the engineers justify the fleecing of their customers. New hardware requires new software, and we can't be focused on developing for antiquated technology, the defense goes. Why would you put rocket fuel into a Volkswagen Beetle when you really should buy a new rocket?
There are a number of reasons, not to mention mere frugality, that people don't want to upgrade new hardware, including environmental impact, portability, sentimentality and function. In the case of the iPhone 5, there's a lot of people saying bigger is not better at all. http://arstechnica.com/apple/2013/01/when-it-makes-sense-not-to-upgrade-to-iphone-5/
More to the point, we should hold our revered companies accountable for optimizing older devices to work on new software, or at least allow for downgrading software to install on older devices, which is currently not allowed by Apple.