Is web design like brickwork?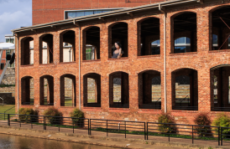 Our company's developers are located in South Carolina where one of the most prominent architectural characteristics in South Carolina's upstate is the brickwork in Greenville used for walls, buildings and pathways. The production of bricks in South Carolina increased dramatically during reconstruction following the Civil War. Today, one can hardly drive through a Greenville neighborhood without seeing bricks used in every construction, whether on pathways, in walls or for the foundations and facades of the buildings themselves.
History of brickwork in Greenville
During the 19th century's industrial revolution in the United States more than 10 million bricks were being made annually. When it came time to construct the factories and mills to fuel the booming economy of a prosperous Greenville, bricks were the material of choice. Greenville had long been a refuge for Charleston gentry who bought homes in Greenville to escape the malarial summers and to enjoy easy access to the Appalachian mountains. Most foundations on these historic houses were constructed of brick during the late 19th century and into the 20th century. Bricks in South Carolina have lasted hundreds of years. We often remind ourselves how building good code and designs in websites should last – not quite as long. Do this by ensuring your WordPress theme and framework is not dependent on third-party updates.
With the arrival of the nation's largest textile mills in the 1930s, Greenville became the "textile crescent" and attracted tens of thousands of workers who came and worked in these mills. All needed affordable houses that could be easily constructed. Brick foundations were common during the building booms in Greenville during the early 20th century, and examples of stonework are prevalent throughout all the historic neighborhoods in Greenville.
Brickwork in Greenville in the 21st Century
More than 24 brick suppliers are available in Greenville County alone. Bricks are the preferred material of choice for most homeowners who want to create a lasting and beautiful structure that is highly functional. Bricks do not deteriorate as quickly as other materials, including metals. Additionally, brick is a clean and natural material that does not require the harvest of old growth forests or synthetic carbon-based materials for bonding. Bricks are known for their characteristic heat retention in the winter and cool air insulation in the summer. Because bricks easily absorb humidity, they have been used to combat summers in Greenville, SC for nearly 200 years.
Finding a brickworker in Greenville who has the patience, experience and understanding for this miraculous material should be the highest priority for homeowners looking to make improvements on their property.