eBay's shift toward The Tea Party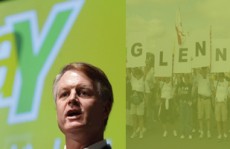 A young eBay, Inc. led by the young liberal CEO John Donahoe donated loads to the Democratic Party, specifically to Senator Kirsten Gillibrand, Democrat of New York. Now, Gillibrand's support of the bill known as the Marketplace Fairness Act, legislation that would ultimately allow states to collect sales tax from online merchants, whether they have operations in that state or not, has put John Donahoe in opposition to the Democratic Party. Donahoe is having that predictable "rich man realization" that comes with making millions.
eBay's sudden political shift to the Right is no coincidence considering their CEO saw his compensation nearly doubled to $29.7 million in 2012 while the company grew 2012 first quarter performance with revenue increasing 18%. Nevertheless, it was a surprise to most of the 84 million eBay members to see eBay's April 24th email in their spamboxes, signed by John Donahoe:
SUBJECT: Tell Congress "No!" to new sales taxes and burdens for small online businesses.
BODY: Dear eBay member,  Congress is considering online sales tax legislation that is wrongheaded and unfair, and I am writing to ask for your help in telling Congress "No!" to new sales taxes and burdens for small businesses ….
eBay continues their media offensive to thwart taxes for the small business operator, something the recent grassroots Tea Party endorses wholeheartedly. Is linking a right-wing movement to the (URL subsequently removed: http://www.newsmeat.com/ceo_political_donations/John_Donahoe.php) left-wing silicon valley CEO heavy-handed? Perhaps, but one can't help but notice how political and philosophical perspectives shift when their own money is involved.
Winston Churchill is credited with the famous quote, "Show me a young Conservative and I'll show you someone with no heart. Show me an old Liberal and I'll show you someone with no brains." But really it's less a matter of age and more a matter of money that determines the philosophical shift from liberal to conservative. Not even Silicon Valley's sweetheart can deny that.