Adobe kills hardware installs and users hate it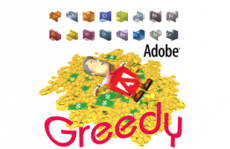 Website managers are showing their teeth a year after Adobe's money grab. Despite popular media outlets who endorsed Adobe's marketing blitz that customers would love it, customers clearly do not. Last year the mammoth software provider declared an end to the install and said they would move to a subscription model whereby users would be required to pay a monthly fee for access to their software. The model is nothing revolutionary, but it does challenge the bank books for struggling website managers and small businesses who will see the cost of running software skyrocket because of the change. For Adobe Dreamweaver a one-time install ($239.88/year) versus the cloud-based annual subscription ($239.88/year) suggests you'll be paying a lot more for the cloud-based solution over time. Adobe counters that the software includes automatic updates as well as cloud-based services that add significant value to the software.
Stephen Shankland wrote last year that "Customer enthusiasm for the Creative Cloud, combined with the awkwardness of maintaining it alongside the slower-moving CS products, led the company to move aggressively to the subscription plan." The commented responses on his CNET article were not positive. User gork_platter's top comment summed up the discontent: "It's not a subscription. It's leasing. With a subscription you have something after your subscription expires. With leasing, once the lease is over, you lose whatever it was that you were leasing."
Consider a few of the acerbic comments made in response to Adobe's decision: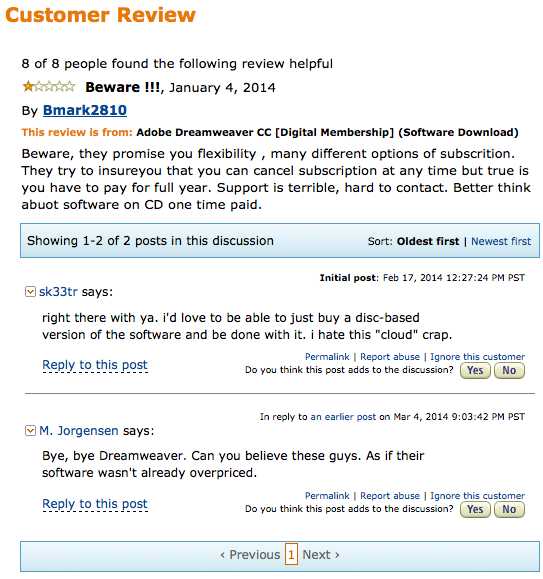 Nonetheless, Adobe Systems Inc. stock price tells a different story, with their software increasing nearly 100% since launching the new initiative. Coupled with their savvy new business deal with the Federal Government in which their software will be used by millions of new schools, the users crying foul might as well be shouting into a dark void.