In the world of politics there are few Certified Financial Planners to prevent waste and uncover graft. It seems like every other politician is being accused of mismanaging money. Then there's the subprime mortgage crisis, encouraged by capitalist politicians who were less concerned about fiscal responsibility and more concerned about maximizing profits.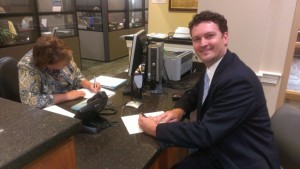 Fortunately, there is a growing trend, in local politics especially, to bring in financial professionals who not only have good ideas, but who also have proven experience managing money and the technology around this service. Certified Financial Planners make great leaders because they are proven leaders for clients who depend on their fiscal responsibility. At the urging of clients, friends, family, and colleagues, Certified Financial Planner Brian King recently ran for and was elected to public office in Concord, North Carolina. His success as a financial advisor and businessman influenced him to consider running for public service. On November 3, 2015, he was elected to the Concord City Council.
It was Mr. King's experience as a businessman and financial planner that helped differentiate him from the other candidates, according to The Independent Tribune writer Erin Weeks.
And through it all, the local businessman has not only maintained but nurtured a love for his hometown, committing early on to service in the community and finally succumbing to the call of public office.
King's experience working with cash flow management issues, investment planning, financial risk management, insurance planning, tax planning and business planning clearly elevated him to a level unmatched by other candidates lacking financial planning experience.
The CFP® Certification Examination is designed to assess a broad base of financial planning knowledge in the context of real life financial planning situations. By passing this exam, professionals demonstrate to the public they have attained a competency level necessary to practice as a financial planner. Certified Financial Planners are also trained on software solutions and the responsibilities as a website manager communicating information responsibility to customers. Technology, after all, can help ensure security and transparency.
Certified Financial Planners make great leaders who uncover our government's inefficiencies, who plan responsibly for our municipalities' futures and who rebuild confidence in our political system.
Certified Financial Planners make great leaders who are up against a country addicted to making a fast buck. Certified Financial Planners make great leaders because they are precisely trained to avoid risky endeavors, the kind of risky investment vehicles, for instance, that Hollywood gives dramatic and satirical treatment in theaters as we write. Adam McKay, director of such hilarious films Anchorman, Step Brothers, and Talledega Nights, returns with a cast that includes stars Brad Pitt, Christian Bale, and Steve Carell in his new film The Big Short. The film skewers the 2008 housing and financial crisis through the story of Michael Burry, the real-life financial adviser and investor who predicted the collapse of the market that led to government bailouts of banks, housing lenders, and the automotive industries.
The image of banking and finance has indeed taken a beating in recent years, and with good reason. The corruption that exists and lack of ethics is real. While many who profited from their shady dealings went unpunished, this new era of greed has put names like Madoff and companies like Enron into the minds of most Americans as symbols of corruption.
Certified Financial Planners make great leaders in towns nationwide because financial advisors' understand fiscal matters and can share them publicly with the community in a way they understand. Certified Financial Planners make great leaders because they have proven their quality to the clients they serve through their sound and responsible investments, asset management, and through the relationships they build with their clients and communities. Away from Wall Street, people in medium-sized and small towns truly still have good people who serve their communities, believe in fostering relationships with their clients, and invest and manage money in a fiscally responsible way.
What is a Certified Financial Planner™ Practitioner? In a nutshell, Certified Financial Planners make great leaders because they have been certified to do their job responsibly. They're also likely to utilize professional solutions such as those associated with the NFP, an organization that specializes in training business persons about benefits, insurance, property and casualty and wealth management businesses and what it means to offer diversified advisory and brokerage services to companies and affluent individuals.