Website managers should assign the following document management system roles for sharing documents on a website – Users, Reviewers and Administrators. Once in place, the structured workflow of a document management system, or DMS, makes each of these roles accountable and responsible for finalizing documents. After all, it is the document management system roles that provide unique content for websites beyond what a simple content management system (CMS) like WordPress will do.
A generation ago, there were Electronic Document Management (EDM) systems that specified document extensions based on proprietary nomenclature. But for today's document management system roles there are no limitations on what types of files these participants upload and manage. Static websites are no longer sufficient because websites are fast becoming the destinations for peer review of all types of content for compliance, legal or group review requirements.
For tracking, approving and storing electronic documents on a website, the document management system provides a library of PDFs, spreadsheets and other files that make websites useful for visitors looking for collaborative libraries where useful information can be easily accessed.
Overview of Document Management System Roles: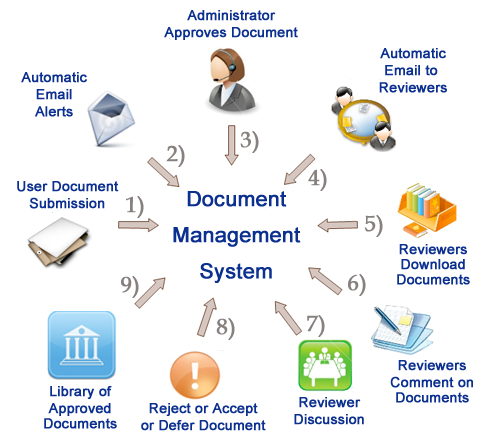 User Document Submission – The common user can upload the document with specific naming and summary information accompanying it. Once uploaded, the user may also delete or replace the document. Users may or may not choose specific categories when submitting, but users do not typically have the ability to see other user submissions. Their document can be approved or rejected at any time by the administrator.
Automatic Email Alerts – Whenever an action is taken by a user the administrator receives an email alert. This parameter may also be extended to reviewers. Time stamps also help keep updates straight for all roles.
Administrator Approves Document – This role is typically a unique one assigned to an office employee who is responsible for approving submissions. Because some submissions may be of bad quality or otherwise inappropriate, the administrator has the ability to accept, reject or defer a submitted document according to predefined parameters.
Automatic Email to Reviewers – Once the document is approved by the administrator, an email alert goes to all reviewers who are prompted to log in and take action on the document.
Reviewers Download Documents – (Reviewers are assigned by the administrator.) Once logged into the DMS, the reviewer will see a list of the approved documents and the associated titles, details and users who submitted them.
Reviewers Score & Comment Documents – By writing a reviewer's own comments and updating the status of each document to Accept, Reject or Defer, he or she provides feedback in a forum for other reviewers to see.
Reviewer Discussion – Administrators have the ability to run reports to aggregate all the comments and tally the votes for accepting, rejecting or deferring a document.
Reject or Accept or Defer Document – A running tally is summarized for the administrator to finalize a status for the document. Because parameters may differ for how a document is rejected, accepted or deferre, this subjective step may require offline processing and further discussions.
Library of Approved Documents – Once a document is deemed "approved" by the administrator, that document will be stored in a public or private directory, with or without reviewer comments in tact. A full audit trail exists for each document.
By assigning the proper document management system roles, website managers generate content to a website's library of approved documents while meeting deadlines and maintaining accountability. While the DMS is a single component to building a website, it is a powerful workflow tool within a content management system.
What's more, a website manager delegating these document management system roles is no longer reliant on posting and managing documents on behalf of everyone; instead, the DMS workflow solution is self-sufficient. These three roles take responsibility for posting and managing files on one website so the website manager can sit back and watch the site build itself.