JC Penny CEO bad boss departure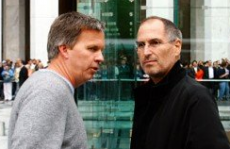 "When assholes succeed," Bob Sutton argues, "they usually do so despite their negative traits not because of them." Sutton's Good Boss, Bad Boss begs the question whether it's worth any company's bottom line to tolerate jerks. Steve Jobs was a well known bully tolerated for his genius and bottom line results returned for Apple, but let's not forget Jobs was fired from Apple for being "famously combative". The company lost millions because of him before making billions despite his antics.
After his own combative 17 months portraying himself as an all-knowing savior of the department store, JC Penny CEO Ron Johnson was fired on April 9th. Business Insider saw this coming long before the board of directors did, calling him the wrong man for the wrong job back in October 2012:
Make no mistake: Ron Johnson is in the midst of the retail disaster of the decade. His arrogance will cost thousands of people their jobs while destroying "America's Favorite Brand."
"His hubris finally did him in," one former executive said. But it was Johnson's catastrophic marketing decisions that makes this cautionary tale timeless fodder for business school professors. How he also managed to alienate employees and customers is nothing less than pure pure arrogance, according to another account:
He got rid of about 400 existing brands. In case shoppers weren't getting the point that they weren't good enough, Penney ran an Oscars ad telling customers they "deserve to look better." "If you're a certain customer and you've been shopping Penney's, that's kind of insulting," a former executive said. "You're going to come in and say, there's nothing for me."
His marketing decisions get even more ludicrous when one considers the $100 million lawsuit he instigated with Terry Lundgren, the chief of Macy's, not to mention excessive plans to waste money on hair salons and boutique coffee shops, all while he made daily jet commutes between JC Penny headquarters in Plano, Texas and his home in California.
Finally, it is worth remembering where Ron Johnson acquired his particular style of dismissive arrogance, staff intimidation, and complete disregard for industry research. From 2000-2011 he worked for Steve Jobs at Apple. But while Jobs was wildly successful despite his negative traits, Ron Johnson demonstrates why most playground bullies are eventually shamed out of their places of power and made to sit in detention.