Why twitter broke their own API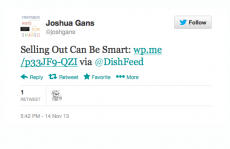 Twitter once offered relaxed rules to encourage growth, but their massive expansion has recently led to bandwidth troubles and a paranoia about who Tweets where. Over the summer, new rules took effect not only to keep spammers, scrapers and bots at bay, but to prevent criminal and user bullying activity. An in-Tweet report button and updated Twitter Rules we accept, but their ongoing API Authentication protocol revisions are a pain in the arse. Website managers are in a constant scramble to update failing Twitter feeds.
While API authentication effectively bans abusive users, it also aggravates the technology used to integrate Tweets. WordPress aficionado Jonas Kaufmann expressed his frustration: "If you can view the tweets of a person without being logged in on any computer, why should a bot not be able to do the same? I'm one of the first users asking this question and I guarantee you, I will find a solution, post it in the OP and within days thousands of people googling the exact same problem will bypass Twitter's stupid new rules using this post."
Why Twitter broke it
The official explanation from Twitter's Michael Sippey details why the company moved away from syndicated feeds in deference to their growing corporate community. Twitter wants tighter security measures and better analytic and CRM tools for the purpose of building their reputation as a business service, not just a social networking service. "We've seen tremendous innovation in applications and services that serve the business market with analytics products based on Twitter content," Sippey wrote.
What Website managers need to know
If you can't beat them, join them. Complain as we might, all of us are likely to adapt to the API Version 1.1 update so that we can continue servicing our websites. While it might be a minor digital holocaust to find your WordPress websites no longer functioning following Twitter's upgrades, we can fix the problem with a little elbow grease – although the new procedures are a bitch to follow. Even the simplest API authentication requires back-and-forth finagling between Twitter and WordPress, but Elisha Terada provides the easiest fix for updating your Twitter plugin to accommodate Twitter's 1.1 version upgrade. Basically, you'll need to login to Twitter and generate keys for new WordPress plugins, a procedure resulting in a version of the below. With this information, you'll be back on the road to successful Twitter feeding on your websites – that is, until Twitter updates their API again.