Domain name value predictions for the 2020s
There is good indication .coms and .nets will return a steady 5% yearly growth for premium names during the next decade. The new and healthy market in one-word .io and .co domains will continue upward. But older gTLDs will not see a hold in value in this new decade. It's also time to sell lesser combo-word .coms and reinvest in one-word paradigms. Here's Blotter's domain name values predictions for the 2020s:
---
Owning 2 or 3 one-word .coms will yield a bigger return on investment than 20-100 combo-word .coms


One-word .io or .co domains have better value than combo-word .coms


International financial market indices will heavily influence domain name values


One-word .com names sell for the highest amounts

Domain name values increase when new buyers are involved

---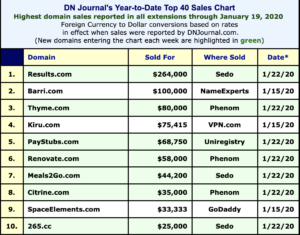 There was an uptick in domain name market participants following the virtual currency boom and bust during the last decade. If you weren't paying attention, BitCoin captured everyone's attention in 2018 and experienced a severe downturn after a massive boom. Mining crypto currency or investing in it early follows a similar investment standard for domain name value. It's digital real estate based on supply and demand, after all!
If you are buying or selling domain names in the 2020s it is worthwhile to see online estimators for an indication where value starts. You can find the full range of estimators online:
https://www.estibot.com/ – High-end estimates
https://www.godaddy.com/domain-value-appraisal – Mid-range estimates
https://www.freevaluator.com/ – Low-end estimates
a market continues to contract a bit leading into this new decade, but
Hear more about what industry experts are saying for the coming 2020s with our allied partner: NamePros.com/domain-investing-predictions
When it's time to follow the market trends, visit The Domain Industry News magazine: DNJournal.com/ytd-sales-charts