The scamming of corporate America may not seem all that big of a problem, especially given the recent surge of record profits across most industries. But it turns out that scams are taking their tolls in an unlikely place – targeting tech companies both large and small. These search engine registration scams use sophisticated mailers with professional invoicing templates implying mandatory registrations for website URLs.
Scams have been around for as long as anyone has been doing business, but the level of sophistication continues to evolve as government agencies and watchdog groups uncover their tactics. The most basic search engine registration scams making rounds to website managers involve both email as well as paper "snail mailed" letters. Either way, the scams follow the same basic formula:
The scammer sends what appears to be an INVOICE itemized with an amount just small enough to seem a legitimate charge.
The scammer includes YOUR DOMAIN NAME including personal registration information available doing a basic WHOIS search.
The scammer warns that it is a FINAL NOTICE and impending EXPIRATION is coming.
The scammer uses what appears to be a legitimate title listing such as "DOMAIN SERVICE NOTICE" or "WEBSITE LISTING SERVICE".
While the legitimacy of their SEO services is highly suspect, the companies purporting to offer domain name search engine registration avoid jail time by claiming to action paying customers' domain names using manual search engine registration pages. But as any website manager knows, search engine registration optimization requires a disciplined marketing strategy that evolves over the course of months. There are no shortcuts despite what the major search engines might imply on their sites:
Google Search Engine Registration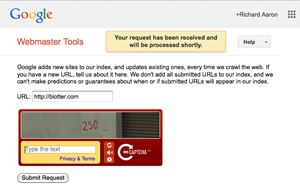 Google offers a submission box under the header Webmaster Tools, that includes the ability to submit your URL. They disclaim its effectiveness with the following:
Google adds new sites to our index, and updates existing ones, every time we crawl the web. If you have a new URL, tell us about it here. We don't add all submitted URLs to our index, and we can't make predictions or guarantees about when or if submitted URLs will appear in our index.
Yahoo! Search Engine Registration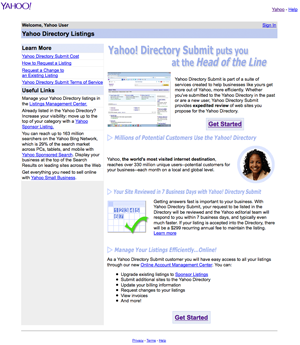 Yahoo! has a more spammy looking interface that also promises to provide website managers with search engine registration tools:
Yahoo Directory Submit is part of a suite of services created to help businesses like yours get more out of Yahoo, more efficiently. Whether you've submitted to the Yahoo Directory in the past or are a new user, Yahoo Directory Submit provides expedited review of web sites you propose for the Yahoo Directory.
Bing Search Engine Registration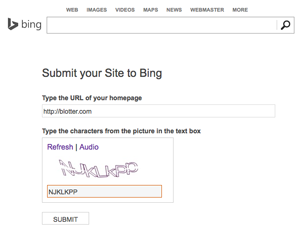 This popular search engine is less exacting on what it is they do with your submitted URL, until you dig deeper into the Bing guidelines. Their guidelines offer a more balanced approach to what is necessary for website managers to see results on their search engine. They are, perhaps, the most honest of the major search engines with disclosing what it is that makes search engines respond. They provide a great blueprint for how SEO really functions:
These guidelines cover a broad range of topics and are intended to help your content be found and indexed within Bing.  These guidelines will not cover every instance, nor provide prescriptive actions specific to every website.  For more information, you should read our self-help documents and follow the Bing Webmaster Blog.  In your Bing Webmaster Tools account, you will find SEO Reports and the SEO Analyzer tool for on-demand scanning of individual pages.  Both resources will offer basic guidance and recommendations in regards to site optimizations that you can apply to your site.
As the old saying goes, if it seems too good to be true, it probably is. For this reason these search engine registration scams are not going away. It's better to rely on the larger strategy goes beyond a simple website and includes consistent and disciplined content and social media strategy.